Today's rehearsal was our first at Alliance Francaise Theatre, and we spent the first part of it at the Olio Dome cafe upstairs...
Meantimes, Ema, Hatta and another crew V ("V" for Vivanti!) were working on our props and helping with our scene changes, while Suven's getting the lights plotted...
The run-through was jittery, as could be expected, but this is the stage where all the potential problems should surface and be resolved, so we took it in our stride...
Rehearsals ended soon enough, and I went over to Orchard Cineleisure and The Heeren for some shopping. Got some pretty cool stuff, which I shall reveal in due time...
Bumped into Boon on the bus home, and I gave him my blog url, so he might be reading this right now... *waves to Boon*
I'd barely reached home when I had to go out again, to fetch Tina and Nicola and bring them to Holland Village for dinner...
We walked past the super-sized billboard of my "Drink Driving Shatters Lives" ad and Tina even took a photo of it! LOL
Then we shopped a bit at Lim's Attic (if I recall the shop name correctly) which sells some ethnic asian products. Most of them seemed to be imported from Thailand or India. Tina managed to get some gifts for her folks back in the UK...
Dinner was at Crystal Jade Kitchen, where we had some plain congee (which actually had conpoy, or dried scallops!), vegetarian and crabmeat fried rice, lemon chicken and kailan...
Tina was distributing our "Laura's Star" flyers to any kids who dare ventured into our vicinity, a very direct way of getting our show known to our target audience and their respective parents...
Met Alvin, my ex-polytechnic classmate, and since he's now a married man with a kid, he gets our flyer too...
After dinner, we took a cab to the National University of Singapore's University Cultural Centre (NUS UCC) to catch Dick Lee's latest musical, "Man of Letters"...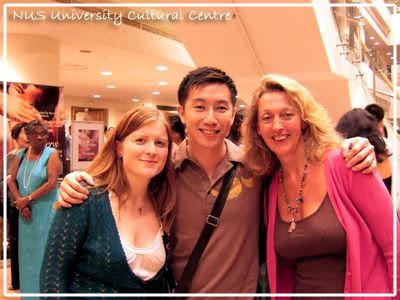 It was a good show, and both Tina and Nicola said they liked it. Well, I certainly did! However, I have bumped into a couple of friends who didn't think so (one of them even left during interval!). It's his loss actually...
Certain scenes were reminiscent of other shows like "Les Miserables", "Cyrano De Bergerac", "West Side Story", "Grease", "Beauty World", "Passion" etc. In fact, I could easily call this an English version of "December Rains"! Still, the story is pretty coherent and the songs and moments thoroughly enjoyable...
There were certain parts of the show that might be slightly awkward for me, sitting in between the two English ladies. Especially the scenes where the characters were shouting "British Go Home!" and also tearing off the Union Jack! Oh well, it was historical and all by-gones by now, and anyway they were rather good sports about it...
Sebastian Zeng's sets and Shao An's lighting provided a very effective backdrop to this story set in the 1950s' student revolutions. Dick Lee's compositions were full of tuneful gems, and his romantic songs were, well, just lovely. The direction was good too, with a steady pacing that didn't leave a boring moment. Would love to work with the director, Darren Yap, someday...
And all the actors including the ensemble cast did a commendable job despite a few minor hiccups. Emma looked gorgeous, Celine cutesy but gutsy, Robin brought a tear or two out of us, George was a suave samseng, Gani looked damn good in hippie wear, and RJ piled on the cheese in an entertaining pageant number. Even from my circle seat, I could easily spot Justin, Jinli, Jonathon, Gordon, Filomar, Jackie, Eleanor, Andrew and Hansel in the ensemble. Pats on their shoulders for all their efforts...
I wouldn't mind watching "Man of Letters" again, and Juju might have complis for Sunday night! Thanks in advance! :)
And oh oh oh, I couldn't resist taking this pic while at the UCC...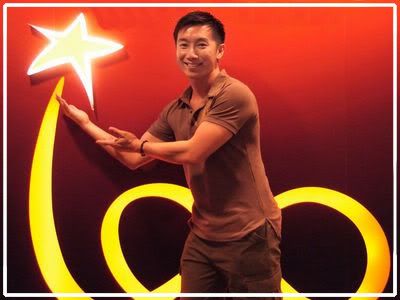 On the way out, we bumped into Stephen Ahsen, and he accompanied Tina, Nicola and I on bus service 96 to Clementi MRT Station. I got off soon after, and by the time I reached home, I was totally spent...